project corona... katrina wilde
Project Corona:


Textile designer


Katrina Wilde

talks life drawing, university closures and virtual learning

14th April, 2020
"We pay a lot for workshops and studio space, and we want to use them to create work - that's what they're there for. If anything, they should postpone until it's safe to return"
Katrina Wilde
is a London based artist/maker from Stoke-on-Trent specialising in textile design. Katrina combines natural dyes, screen printing, drawing and the occasional use of clay, to create works focused on connecting with nature, community and self.
Katrina looks to connect and engage with her surrounding communities through art and design, and hosts a monthly life drawing session at Stoke-on-Trent's Slamwich Club.
She studies at
Royal College of Art London
, and as a result of Covid-19 was recently affected by the UK government's decision to
close
all schools and universities.
You're very open about your heritage as a half-British and half-Bulgarian individual. How do you feel both of these elements have informed your work?
I'm deeply connected to the Bulgarian part of me. I've spent the majority of my summers there since I was born. In the last few years I've also become really connected to Stoke-on-Trent, where I grew up, the community here and its heritage. I think I resisted it a lot when I was younger, which is something that I can imagine a lot of us who grew up in Stoke can resonate with, but I moved past that. The people are incredibly resilient, and you can see this come through time and time again.
In both places, there's a history of craft and making and I feel endlessly inspired by the embodied hand skills that they exemplify. This isn't stuff that's learnt in a design school (which of course is still valid, I'm doing it now); these objects and textiles are created as a product of being connected to the land and its people. These are skills that get passed down through doing, and not by textbooks. I think there's something really beautiful in that, and I feel like there's some of that in me too - maybe it's just curiosity, I don't know. It's hard to describe, but for me, making feels really intuitive.
You host regular life drawing classes at The Slamwich Club in your hometown of Stoke-on-Trent. What do you feel visitors gain from your experience, and why do you think it's important to host these events?
I feel like so many people avoid being creative, or doing something arts related, for fear of not being 'good' at it, even if it's simply for enjoyment and not for career purposes. In my opinion, it's something that's been ingrained into us from school.
I really love welcoming our regulars, as well as people that haven't drawn in years, 'aren't arty', or who have never drawn at all. The response has always been so overwhelmingly positive. People have said they've felt welcomed and relaxed and enjoyed doing something they never thought they could do. It's also pretty nice to sit and draw with a glass of wine and some nice music on a Thursday night.
I think it's really important for us as creative practitioners to create, hold and facilitate a space that's non-judgemental, open and inviting, so that more people can engage with the arts. We know there's a link between creating with your hands and good mental health. I don't think it should be reserved only for people who have studied arts in the traditional sense - it's a privileged position to be in and if we can share it, then I think we should.
How has self-isolation been for you so far?

I've come home to Stoke from London for an unknown amount of time, which is a little unsettling, but I'm fortunate to have the choice. I also work in one of the key service areas so I'm still going to work which feels less isolating.
There's something oddly exciting about having such a large amount of time to do things that you've put off for ages, as well as finding new ways of working. I feel productive. I've set up a sewing machine and nearly finished a shirt for myself, considering I've always avoided sewing machines at all costs despite studying textiles since college. I think I'm going to end up with a whole new wardrobe and interior by the end of the summer!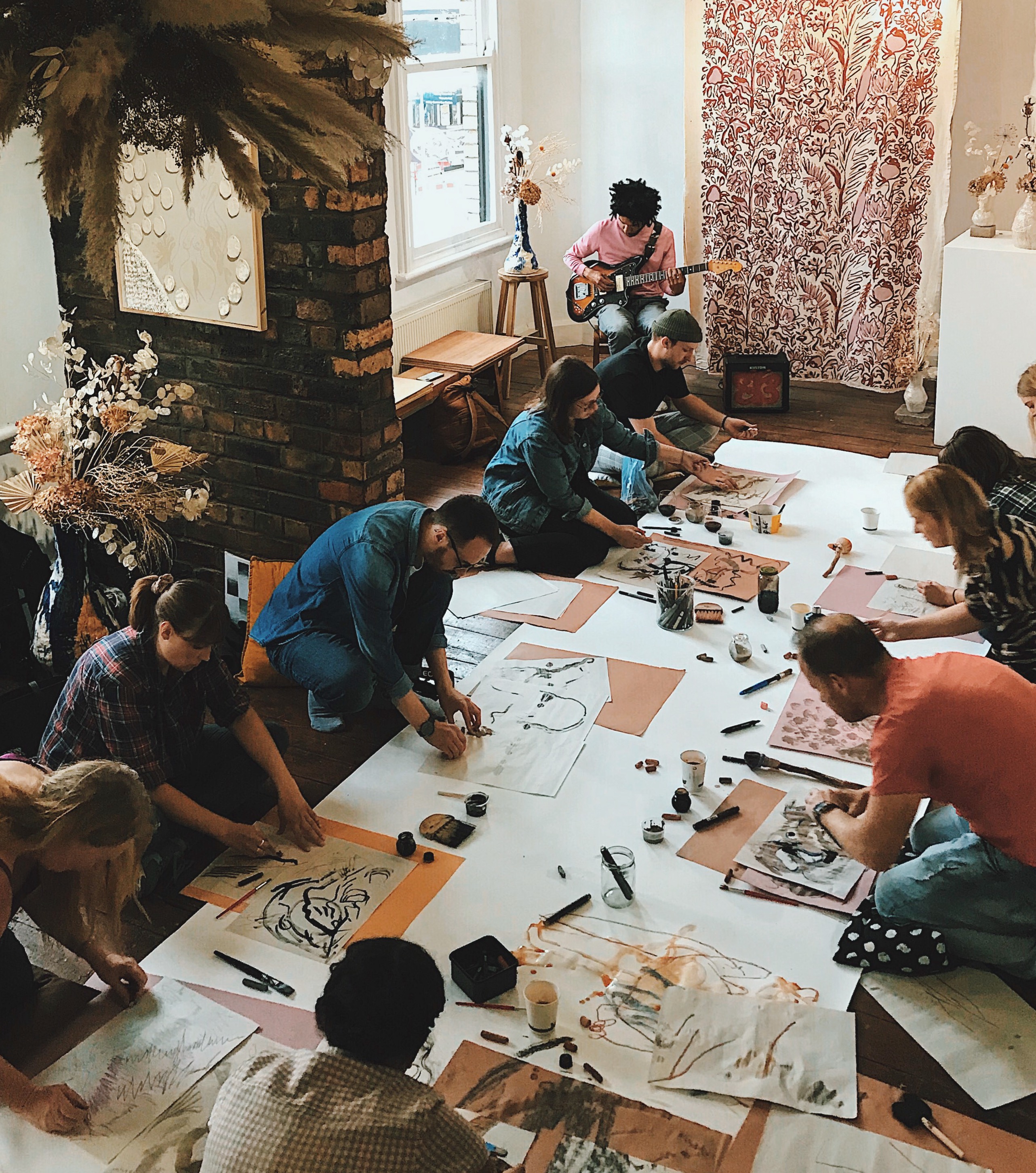 Due to Covid-19 all schools and universities have been closed, with a lot of students having to sit their exams online. In the case of Royal College of Art degree shows are potentially being hosted online. As an art student, how has this change affected you?

RCA didn't consult the student body that the degree shows were going to be virtual, considering the vast majority of people have studio based practices. It's insufficient. I'm in my first year so I'm not directly affected, but stand in full solidarity with students who'll be showing this year.
There's a
petition
up online that's directed towards vice-chancellor Paul Thompson on the decision, which you can sign to share your support.
So much energy goes into the work that's created, so to not show it in person, when it's safe again, feels like an injustice. In terms of how it's affected me, they're proposing our next term to be online/virtual. I understand why, however I don't think this is the right solution. We pay a lot for workshops and studio space, and we want to use them to create work - that's what they're there for. If anything, they should postpone until it's safe to return.
It's just not the same working from a bedroom. If I wanted a virtual course, I would have joined the Open University or something. I just feel really sad and at a loss to be honest, and I know I'm not alone in that.
With the government insisting that society self-isolate to decrease the contraction of Covid-19, do you feel like this could actually encourage creativity?

Yes, absolutely. I think people will want to fill their time with more than just TV, and really make an effort to seek out things that they can occupy themselves with. I think that we're going to see a really big increase in people being resourceful and using what's around them to create stuff. There's a lot of people sharing workshops, ideas and resources, and it's a great time for people to be supporting creative practitioners (as the majority are likely self-employed), if they're able to.
"I'm also not putting any pressure on myself to create a masterpiece or whatever because there's all this time now"
With life drawing postponed this month, I'm going to be sharing a workshop guide on Instagram so that people can set themselves up at home. You'll have to provide your own wine though!
How do you plan on staying calm and creative?

I'm going to create some sort of routine for myself that involves getting up early, doing some yoga and loosely planning what I'd like to get done that day. I think having an idea of things I'd like to complete will keep me focused and calm. I'll be doing a lot of dying, sewing, cooking, reading and resting. I also have a few uni deadliness that'll keep me busy.
I'm also not putting any pressure on myself to create a masterpiece or whatever because there's all this time now. I'm going to use it as time to take stock and look at what's important.
View, collaborate and learn more about Katrina Wilde below:

www.katrinawilde.com
/
@katrinawilde
#TimeIsInfinite


words: patrick taylor / images courtesy of katrina wilde
---